Plastisol Transfers are screen printed designs that are printed on a special heat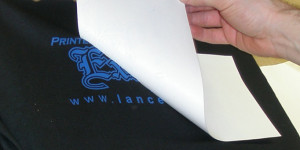 transfer release paper instead of directly on the shirt. Once the design is screen printed onto the paper, the printed heat transfer papers are shipped to your house. You can then use a heat press machine to print those designs onto your t-shirts, hoodies, or any other garment.
Advantages
This method is very cost efficient and reduces a lot of workload on your side.
You can Focus on Designing Artwork
If you are a graphic designer, then this method would benefit you the most. All you need to do is create the design and you can get them printed on a high quality release paper from a 3rd party company. Once they send it to you, you just need to use a heat press machine to print it out on a garment. The printing process is simple and takes no more than 3 minutes per shirt once it is setup.
Your Workspace is Clean
For those that have tried screen printing, you know how messy it can get. Cleaning up becomes a hassle. With heat press printing you only need the machine itself and a table to put your custom designs and garments on.
You don't have to invest as much money
With traditional screen printing you have to put up a lot of money up front. You have to pay for all the shirts to be printed and most screen printers have a minimum of 50 shirts, or if they offer smaller minimums the cost per shirt goes up a lot. If the shirts don't sell or you bought the wrong sizes there is nothing you can do.
With plastisol transfers you can buy the shirts as you go and try out multiple colors and different garments like tank tops, hoodies, v-necks, and long sleeve shirts. The investment is a lot smaller and you aren't stuck with inventory you cant sell.
4) Print multiple designs on single transfer
If you have a couple one color designs you can print them all on a single transfer paper.